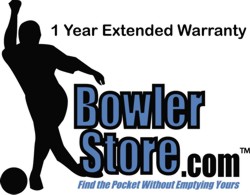 Bowlerstore.com Extended 1 Year Warranty - $6.95 (Lower 48 States Only)

This is valid for 1 bowling ball only. If you purchase more than 1 ball and you want the warranty, you must purchase for each ball.
We'll DOUBLE the manufacturer's warranty up to an additional year for only $6.95! You'll bypass the lengthy manufacturer's claims process and work directly with us! No additional costs of any kind.
Benefits: *Fast Turnaround - just a few days to process claims *We pay freight back to the warehouse *We pay freight back to you *UPS will pick up your warranty return
Conditions: *Must be purchased with ball at time of original order *Must be a manufacturing defect, not normal wear and tear *THIS OFFER ONLY APPLICABLE IN THE LOWER 48 STATES