Linds Semi-Custom Shoes
The Linds Semi-Custom shoe is for the bowler who wants the special color or color combinations and sole and heel combinations that are not available in our stock lines. These shoes are made just for you from start to finish and are available in the Classic Mens and Ladies, Exxxtra Mens and Ladies, Wedge Mens, CPV Mens, CPS Mens shoe styles.
If you are comfortable in our Classic and Exxxtra shoes, but want different colors or soles and heels, then this is the shoe for you. Download the color chart on the bottom of this page!
You now have the ability to order Linds Semi-Custom Bowling Shoes online by filling out our online form below.
YOU CAN ALSO CALL 1-877-300-2695 OPTION 1 TO PLACE YOUR ORDER.
IF YOU DO NOT WANT TO FILL OUT THE ONLINE FORM BELOW, YOU CAN CLICK HERE TO DOWNLOAD THE FORM TO FILL OUT.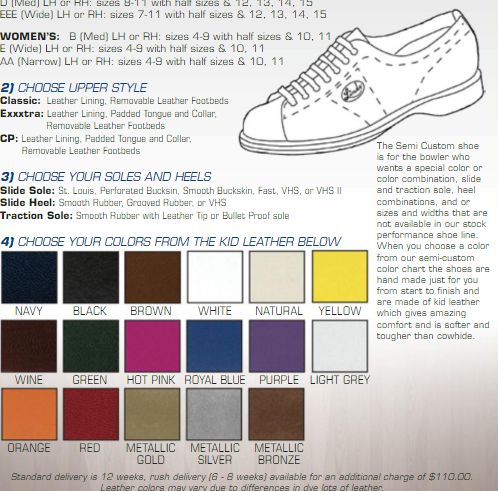 Details for this kit have not been setup